Programs
Our programs are designed for young people, ages 16-24, who are ready to make positive changes in their lives through a job, education, and community service.
Youth in our programs WORK on hands-on outdoor projects that improve the community like maintaining a trail, reducing wildfire fuels, or even building an entire house. Youth EARN a weekly stipend or minimum wage for full-time work and can also earn college scholarships. Finally, our young people LEARN everything from math and writing skills to career planning and resume writing, all while gaining high school credits, preparing for the GED, or taking their first college class.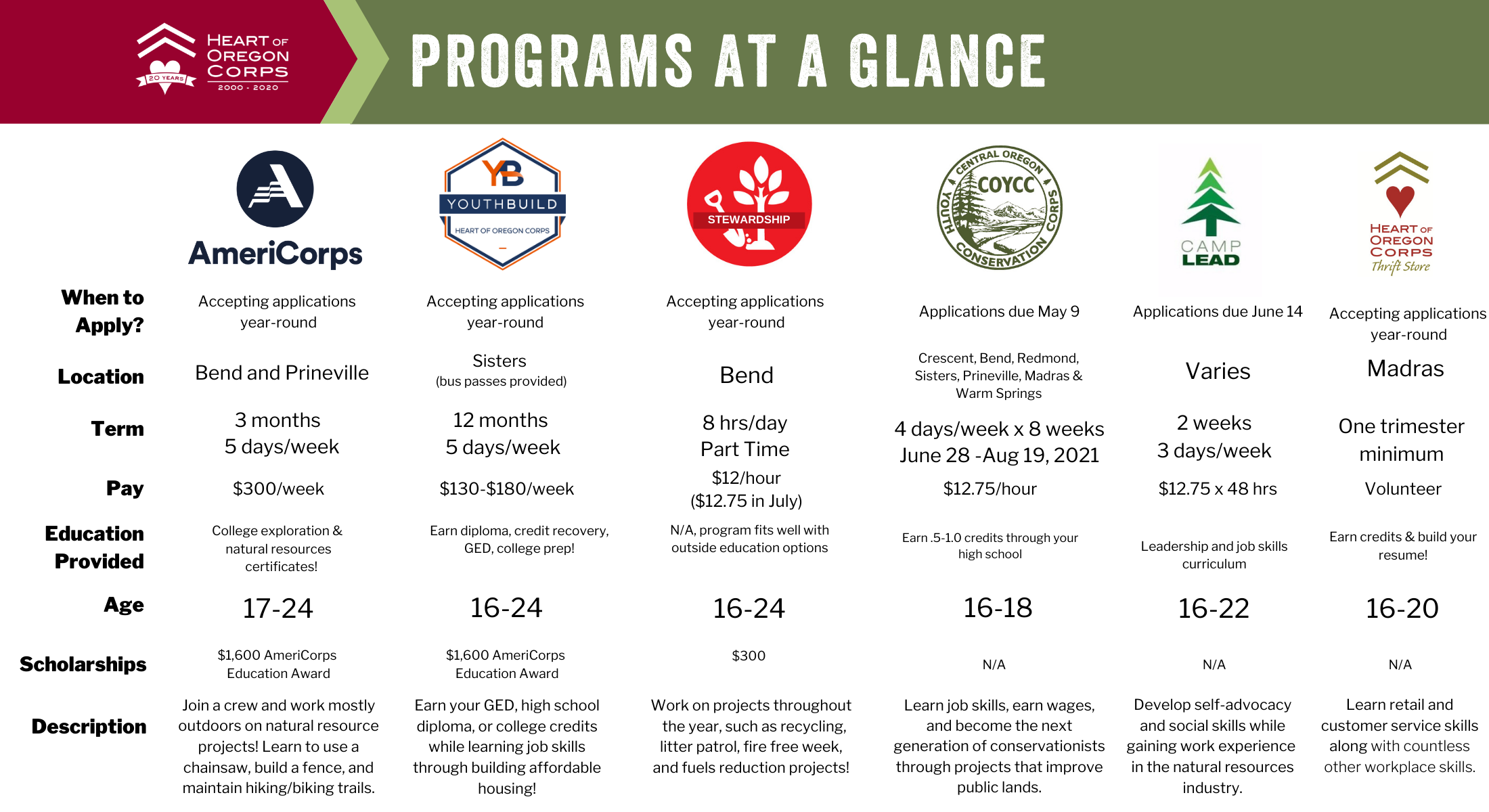 Does one of our programs look interesting to you? Click on the program below to find out more information!
---
Programs currently accepting applications:
COYCC - Accepting applications for summer (Apply by 5/9/2021)
AMERICORPS - Accepting applications for the next crew  (Apply by 6/14/2021)
Camp LEAD - Accepting applications for summer (Apply by 6/14/2021)
YOUTHBUILD - Accepting applications for fall 2021
STEWARDSHIP - Accepting applications year-round
---
Please note: when you complete your application, you will be redirected to a login page. This means your application has been received; you do NOT need to log in.
for printable version of HOC Application
COVID-19 Update: We are continuing to accept applications in all Heart of Oregon programs. Please check the page of the program you are interested for details about our COVID-19 response, or submit an application and we will follow up to help you find the right program. We are actively planning contingencies and will share additional details when we can.
We screen applicants based on their eligibility for our programs and their motivation to complete our programs. Please find more information about our programs by using the links above. This application is the first step for ALL programs. Some programs have multiple steps for enrollment.
Questions? Call us at (541) 633-7834.